Så er det tid til miniaturer! Når det er sommer og udevejr, så kan jeg altså ikke sætte mig ned og lave miniaturer. Det bliver aldrig som jeg kunne ønske mig og det er altså heller ikke nemt at tage med nogen steder.
Så jeg har hæklet istedetfor. I lange baner!! Det er blevet til tasker, håndledsvarmere, babykraver (ikke at jeg kender nogle små babyer...), vimpler + det løse. Lige nu er jeg i gang med et stort tørklæde til mig selv som gerne snart skulle være færdigt.
- men nu begynder det så småt at krible for at lave miniaturer igen.
Jeg har langt om længe fået mit dukkehus som jeg ønskede mig til min fødselsdag i foråret, og som min søde kollega har haft med hjem fra Atlanta, USA, hvor hendes søn bor.
Jeg glæder mig som et lille barn til at begynde at samle det, og i mit hoved kører der en masse ideer rundt, om hvordan det skal se ud. Lige nu hælder jeg mest til at lave det sådan lidt shabby chic, men er ikke helt sikker. Sådan noget med at lave et sortbjedset tag, og måske lave huset sandfarvet med flødefarvede vinduesrammer mv. Eller måske male huset andeægsgrønt, eller en lys gråblå eller.....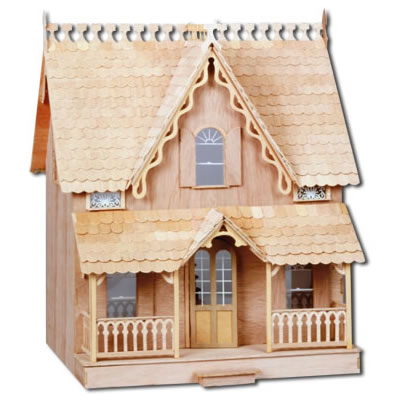 The Arthur by Greenleaf

Time for miniatures.
In the summer when the weather allows us to stay outside, I'm not able to make miniatures. They don't turn out the way I want them to. And it's not easy to bring the around, so I've been crocheting instead. I've made lots of different stuff, and right now I'm crocheting a scarf for myself.
- but now it's time for miniatures.
I've finally got the dollhouse I wished for at my birthday in spring. A nice colleague of mine brought it home from Atlanta, USA, where her son lives.
I'm looking forward to build it, and I'm making lots of plans in my head. Right now I'm in the mood for making it Shabby Chic, but who knows...
I've been thinking about staining the roof black, paint the a sandy beige with creamcolored trimmings.
Or maybe paint the house green like duck eggs or a greyish blue or ....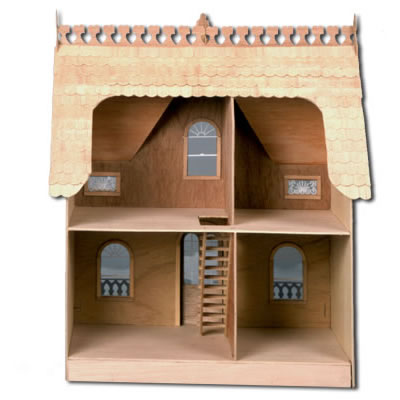 Hvis nogen af jer søde followers har prøvet at bygge The Arthur, og har nogen gode tips eller ideer, vil jeg blive meget glad for et lille tip. Det er det første købte dukkehus jeg skal i gang med, så jeg er meget spændt på hvordan det hele passer sammen.
If any of you nice followers has tried building The Arthur, and has some good ideas, I'd be very happy to hear about it. It's my first bouht dollhouse, so I'me quite excited of how well it fits together.
Vi ses snart igen.
See you soon.